Single cylinder cone crusher
【Introduction】:
Type:Secondary Crushing
Input Size:40mm--500mm
Processed Materials:Limestone, Granite, Gabbro, Basalt, River Stone, Coal Gangue, Quartz, Diabase,Iron Ore, Copper Ore, Zinc Ore, Manganese Ore, etc. (for Hard Stone).
Applications:Aggregates Shaping, Mechanism sand, Bituminous Concrete, Metal Mine, Chemical, Road, Railway,Metallurgy, Construction, Highway, Water Conservancy
Capacity:80-1000TPH.
Whatsapp/Wechat:+86-13676922906
Description
Single cylinder hydraulic cone crusher is widely used in mining, metallurgy, construction, highway, railroad, and water conservancy, etc. It can break or crush all kinds of medium hard or harder ore for mining, chemical building, materials and other industrial sectors. This kind of machine has the features of big crushing ratio, continuous operating, even granularity, automated hydraulic clearing system, high capacity, simple structure and low operating cost, suited perfectly for middle and fine crushing.
It adopts the best combination of crushing frequency and eccentricity, its crushed product size is much smaller. Crushing and grinding power consumption is reduced greatly. Hydraulic adjustment and method for cleaning chamber make operation and maintenance much more convenient and automatic. This series of Single Cylinder Hydraulic Cone Crusher has much less trouble, and operating ratio is increased more than 85%, so the whole cost is reduced greatly.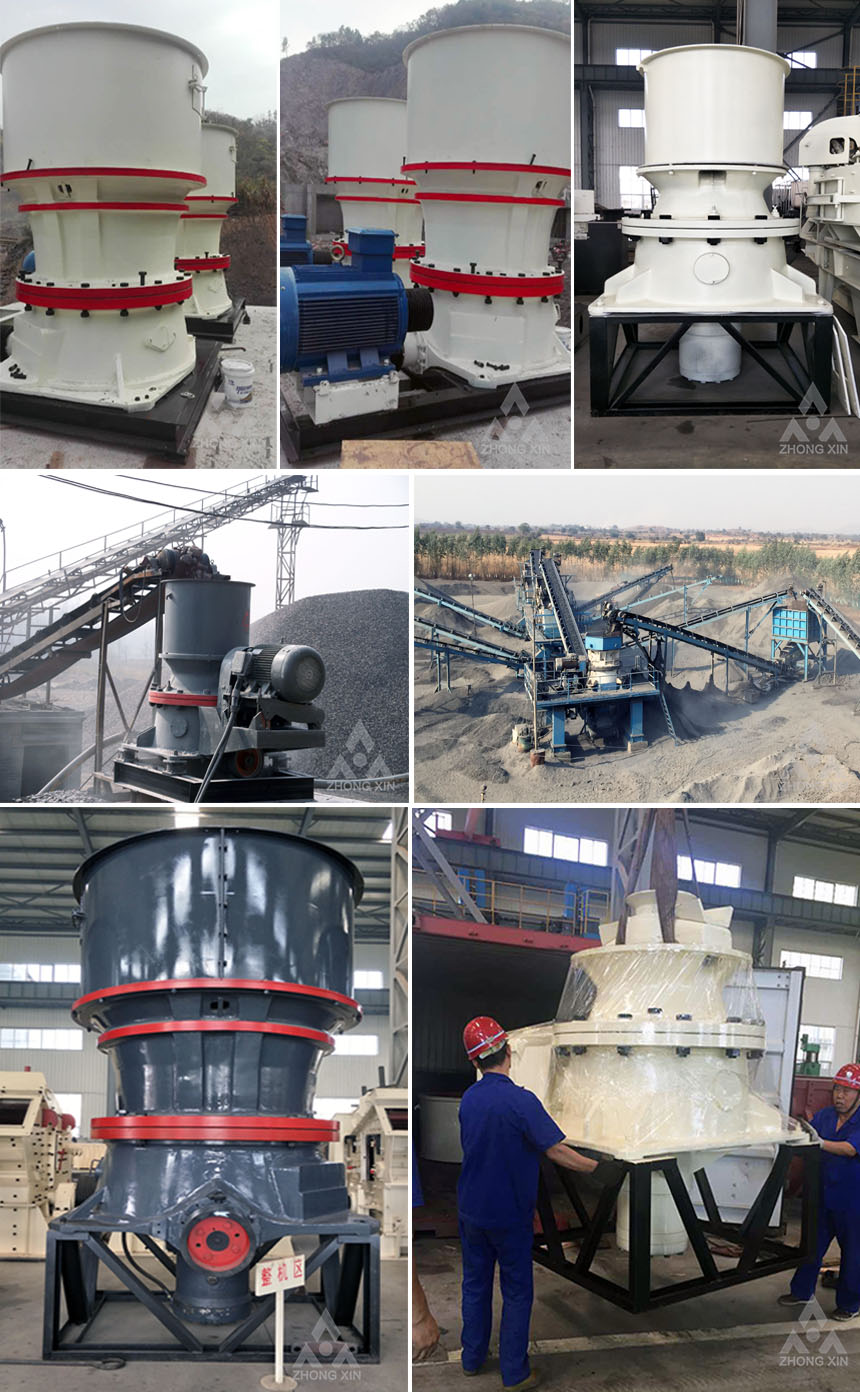 Features
1. Optimized lubrication/hydraulic station, low cost.
2. Two ends supporting for the main shaft.Floating main shaft with two ends supporting enables stronger carrying capacity, compact structure and reliable & stable operation.
3.Run continuously and stably
4. Special design of the bearing, large load capacity, longer service life
5.Adopt direct meta-contacting method, which facilitates replacing liner plates of mobile cone and stationary cone
6. Safe and reliable insurance system.
7.Automatic protect against over load for iron material entering
8. Stable performance, easy maintenance.
Working principle
Single cylinder hydraulic cone crusher is mainly combined of six parts: upper frame body, lower frame body, movable cone, eccentric sleeve, transmission part and hydraulic cylinder. The horizontal shaft driven by motor makes eccentric sleeve rotating via the gear, then the eccentric sleeve drives the movable cone rotating to realize continuous stone extrusion.

Specifications
DP100S、DP100、DP430S、DP440、DP440S、DP660、DP660S Technical parameters
Model

DP100S

DP100

DP430S

DP430

DP440S

DP440

DP660S

DP660

DP870

Weight (kg)

7350

5700

12000

9200

19300

14300

35700

26800

49800

Maximum inspection weight
(kg)

2800

2000

5200

3000

8200

4800

16800

8600

13200

Power
(kW)

90

90

132

132

220

220

315

315

500
Model

Cavity

Max feeding size
(mm)

The capacity of Corresponding Discharge opening size(t/h)

19mm

22mm

25mm

29mm

32mm

35mm

38mm

41mm

44mm

48mm

51mm

54mm

60mm

64mm

70mm

76mm

DP100S

M
Medium

170

85-90

105-145

125-175

145-200

165-215


DP430S
EC
Supre Coarse

360

126

138-173

147-230

156-293

165-310

174-327

183-344

196-306

205-256

C
Coarse

300

108

116-145

127-199

135-254

144-270

152-285

161-301

196-264

108

MC
Medium Coarse

235

91

98-123

106-166

116-218

124-232

131-246

139-261

147-275

154-241

165


DP440S
EC
Super Coarse

450

267

282-353

298-446

313-563

334-601

350-524

365-456

C
Coarse

400

225

239-299

254-381

269-484

284-511

298-448

318-398

333

MC
Medium Coarse

300

195

214-267

228-342

242-435

256-461

270-486

284-426

303-378

317

DP660S

EC
Super Coarse

560

349

368-460

392-588

410-718

428-856

465-529

489-978

525-1050

562-983

C
Coarse

500

318

336-420

353-618

376-753

394-788

411-823

446-892

469-822

504-631
Model

Cavity

Max feeding size
(mm)

The capacity of Corresponding Discharge opening size

6mm

8mm

10mm

13mm

16mm

19mm

22mm

25mm

32mm

38mm

44mm

51mm

57mm

64mm

71mm


DP100
M
Medium

105

55-60

60-85

65-95

70-100

75-90

MF
Medium fine

85

45-50

50-70

55-80

60-85

65-90

65-80

EF
Super fine

32

40-55

40-60

45-70

55-75

60-75

65




DP430
EC
Super coarse

185

69-108

75-150

80-161

86-171

91-182

104-208/

115-208

C
Coarse

145

66-131

71-142

76-152

81-162

86-173

98-197

109-150

MC
Medium coarse

115

57

62-140

67-151

72-162

77-173

82-184

93-145

M
Medium

90

64-84

69-131

75-142

80-152

86-162

91-154

104

MF
Medium fine

75

61

65-106

70-115

76-124

81-126

87-114

92

F
Fine

50

48-78

51-83

54--88

59-96

63-103

68-105

72-95

77

EF
Super Fine

35

70-90 80% smaller than 5mm-5.6mm




DP440
EC
Super coarse

215

114-200

122-276

131-294

139-313

159-357

175-395

192-384

C
Coarse

175

101

109-218

117-292

125-312

133-332

151-378

167-335

183-229

MC
Medium coarse

140

97-122

105-262

113-282

120-301

128-320

146-328

161-242

M
Medium

110

117-187

126-278

136-298

145-318

154-339

175-281

194

MF
Medium fine

85

114

124-227

134-245

144-263

153-281

163-299

186-248

F
Fine

70

90-135

96-176

104-191

112-206

120-221

129-236

137-251

156-208

EF
Super fine

38

100-125 80% smaller than 6mm-7.5mm





DP660
EC
Super coarse

270

177

190-338

203-436

216-464

246-547

272-605

298-662

328-511

CX
Super coarse

235

174-194

187-374

200-488

212-519

242-592

268-654

293-521

323-359

C
Coarse

215

171-190

184-367

196-480

209-510

238-582

263-643

288-512

317-353

MC
Medium coarse

175

162-253

174-426

186-455

198-484

226-552

249-499

273-364

M
Medium

135

197-295

211-440

226-470

240-500

274-502

302-403

MF
Medium fine

115

192

207-369

222-396

237-423

252-450

287-451

318-363

F
Fine

90

195-304

210-328

225-352

241-376

256-400

292-401

323

EF
Super fine

65

211-293

227-316

244-298

261-290





DP870
EC
Super coarse

300

448-588

477-849

544-968

601-1070

658-1172

725-1291

782-1393

849-1512

906-1331

C
Coarse

240

406

433-636

461-893

525-1018

581-1125

636-1232

700-1357

756-1464

820-1461

876-1286

MC
Medium coarse

195

380-440

406-723

432-837

492-954

544-1055

596-1155

657-1272

708-1373

769-1370

821-1206

M
Medium

155

400-563

428-786

455-836

519-953

573-1054

628-1154

692-1271

746-1372

810-1248

865-1098

MF
Medium fine

100

379-424

407-716

434-765

462-814

527-928

852-942

638-789

702

F
Fine

90

357-395

385-656

414-704

442-752

470-800

535-912

592-857

649-718

EF
Medium fine

80

280-405

304-517

328-558

352-598

376-639

400-680

455-775

503-758

551-669